The eHive project
With this article, we want to give you an overview of the project, its possibilities in education and research and the current progress of development.
What are we trying to achieve?
In the past decade a huge amount of bee colonies collapsed, currently about 40% per year. Scientists have good reasons to fear this development as the honey bee is one of the most important useful animals of our agricultural system. But currently we understand only a small fraction of the bee's biology and behavior which results in a lack of projects to fight death of bee colonies. With our BeeBIT eHives, we want to establish a tool for professional bee research as well as motivate pupils to engage in bee research.
What exactly is an eHive?
The root of the BeeBIT Project is the HOBOS Project of the University of Würzburg. The HOBOS System is a special bee hive, monitored by high-tech sensors whose data is published on the Internet. But it is only a single Hive, placed in a narrowly defined geographic and environmental setting. Its data is barely transferable to other colonies in other regions of the world. This is the basic idea of the eHive: A relatively inexpensive system for monitoring bee colonies which can easily be bought and set up by schools and other educational institutions.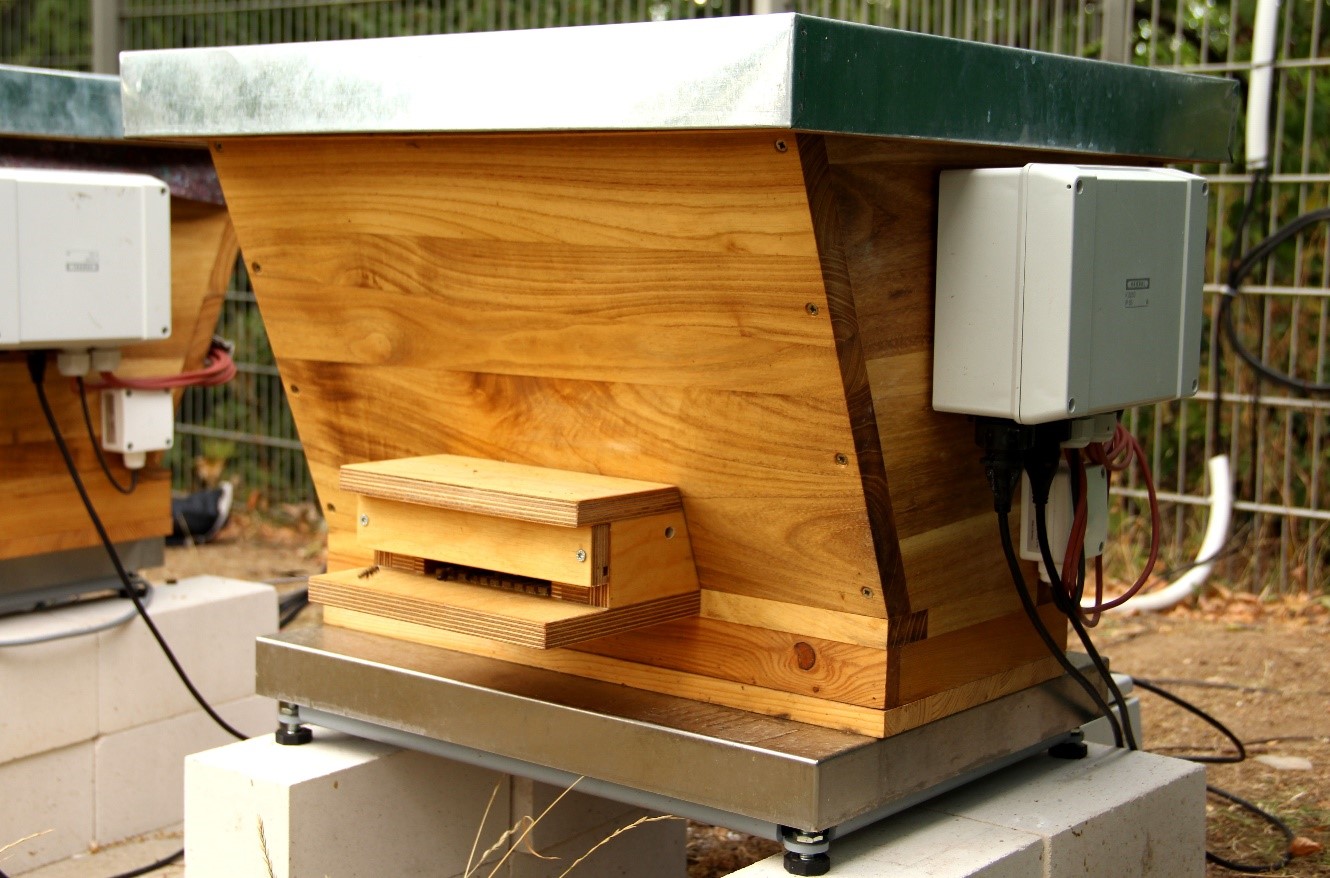 An eHive at the Umweltstation (local conservation agency) in Würzburg.
Every eHive contains a set of probes: 6 Temperature sensors and a humidity sensor monitor the micro climate of the bee hive. A scale underneath the hive makes it possible to draw conclusions on the colony's honey yield. A proprietary sensor for measuring bee approaches and departures shows the activity of the hive. An industry-standard weather station delivers highly accurate environment data – all those parameters are recorded every minute and can be sent to the server in real-time.
As an Institution of Education, how to benefit from the project?
The BeeBIT project is funded by the Erasmus-Plus-Program of the European Union to create teaching materials based on the eHive's data. This enables the pupils to work with real, close to reality examples, no matter if in Biology, Math or Computer Science lesson. A sample lesson is available on our homepage. The lessons created during the Erasmus-Plus-Project will be available for free on our homepage. If you created lessons based on our data and want to share it with other schools, feel free to contact us!
Of course, custom projects led by pupils are also possible, which can promote bicultural understanding as pupils can work together across borders.
As an Institution of Research, how to benefit?
As all the eHives are constructed in the same way, the project enables scientists not only to monitor a single colony, but plenty of colonies in totally different regions. Consequently, we collect comparable data that may help to understand the life and death of bees. For example, a colony collapse disorder event was never recorded by sensors – by monitoring several colonies, we may be able to produce such valuable data.